After a weekend of incredible conditions in Sydney and down the coast that were blessed by NE winds, blue skies and +30c temps we've had the mother of all Southerlies come through Sydney and smash us!!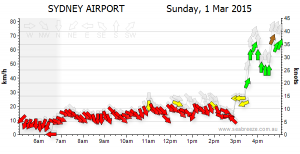 I managed to arrive home from down south just as the big dark storm clouds rolled in and the wind died from being a ~12knot NE to what appears to be a 45knot+ Southerly with lightning and rain!
I did see 2 kites ready on the beach down at longy, I hope they were small and I'm taking a punt that one of them was Barber Shop Ben as I stole one of his pictures from Facebook :).
Pretty insane stuff, hope everyone stayed safe and didn't do anything stupid. Below are a few shots I snapped when the storm first hit in Dee Why.