We know the southerly wind it's coming… But When??
[mks_dropcap style="letter" size="52″ bg_color="#ffffff" txt_color="#000000″]S[/mks_dropcap]outherly winds are awesome! Whilst away down the coast the other day I had a message from a friend asking when I thought the Southerly wind will actually hit Sydney.
We love a good southerly wind for kitesurfing / windsurfing, they are always reliable, strong, usually pretty consistent and can hang about for the whole day or even longer. The best part however is that when one is forecast there is a 99% chance of it turning up (unlike a seabreeze on the Northern Beaches!) The only issue is when.. The forecast models and seabreeze can be a bit out sometimes, we went through a trend a while back of them turning up 3 or 4 hours ahead of schedule but recently they have been pretty close. But how can when that southerly wind will really hit and how strong will it be?
Thankfully the wonderful website seabreeze has the answers we need and the BOM has provided us with the perfect resource.. Wind meters all the way up the east coast! Now when a southerly hits the Sydney region it rattles through pretty quick, so if we need a little more time to finish our latte's or get away from the wife we need more warning! Bring on the Illawarra charts..
Located an hour or so south of Sydney is the Illawarra coast, it's pretty much dead south of us (further south can work also to some extent). If we know a southerly wind is forecast we can use the charts south to (say Kiama or Point Perpendicular) to watch for the southerly wind change. This tells us it's ON IT'S WAY.. but how long??
Let's look at an example for today (Thursday 5th March 2015), here is the chart for Kiama. Perfectly you can see the southerly wind change hit almost exactly at 12pm. This is perfect for us to work out time lag.

Now lets look at the chart for Sydney Airport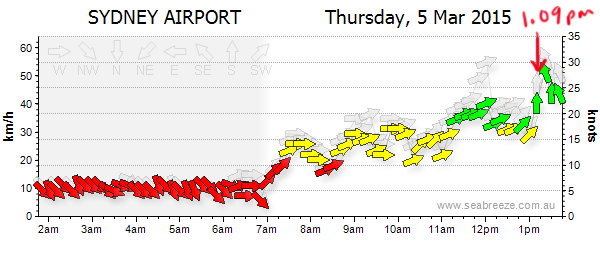 and now lets see the important Northern Beaches

I've made it pretty simple by writing the times the change hit on the graphs. I've never honestly done the real math of trying to work it out, and it will always depend on how strong the wind is. As a rule of thumb I've always said from Point Perpendicular to Long Reef is about 2 hours (that was the 2hrs I sent you Alex

) and it looks like I might be about spot on. We can see the wind change at Kiama at 12pm, the airport change at 1.09pm and then North Head go at 1.30pm.
So, if you were bunking off work today and were on the ball you would have been at Longy pumping up at about 1.30pm and you'll be down on the beach right when it hits. That is called maximizing your water time! Yewww.. That's about it. This approach doesn't work for seabreezes but will work for frontal winds from the North too.
The other big benefit of taking a look further afield is we can see how strong the initial front is – sometimes we see a 40-45knot gust ahead of 25knots of good wind – and we can also see how long it's going to last, it could just be a brief wind change under a big dark cloud for example or it could be a 3day gang banger of southerly! Or if's going to swing offshore… Looking down south lets us know all this.

Happy dayz..
As always, post your views and comments in the comments below if you know this works elsewhere, if you find this useful please share on facebook and with your friends.