Hey All,
If like me through winter you don't religiously trawl the seabreeze forecast waiting for wind and I usually miss when wind coming up. Well I decided to take a look the other day and look at this!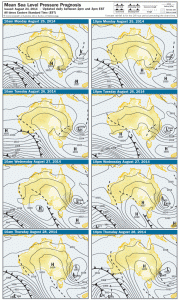 Yewwww.. If this forecast holds true (it has changed since Friday and stuck more south) then we could be on for a few crackers. It's probably going to be WET and GUSTY (depending on the rain clouds) at a bet and there is a chance the surf will get up as it goes on. Swell forecast is down a little from last week but we'll still get some chunks.  Looking at the charts with that low off to the east will determine if its dead south or more east, it'll start off more east as it builds and then trend south. Another up side is the water is nice and warm, surfing over the weekend felt like summer again! (almost)
As always, beginners it'll be probably be ok to start with and then progress to being too windy. Usual spots will be in play, Botany will work (stay further south), Longy, Narra. I know where I'll be :). See you all at 5.30am on the beach for a sunrise session!