Day of rest today but looking pretty schmick for Sunday and Monday over here.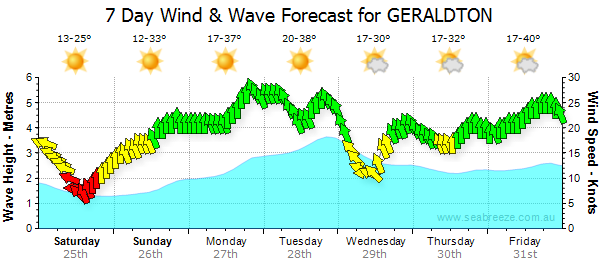 In fact, looking pretty darned good for the next week if you don't have to work. Apologies for the long gaps between posts. Back at work in the office during the week these days so not much chance to kite or write posted for the site. Summer has kicked in with steroids this year. Cracking 35C pretty much every day these days, despite the forecast calling it 10 degrees less.  And it you're sitting in an office facing west like I am right now, probably add another 5C to that –Infact, my little DickSmith digi thermo unit says 37.5 right now.
20-25 knots from the south tomorrow and Monday. A few of us are getting together for a BBQ at a friends in the mid-afternoon down near Separation Point on Sunday after the Foreshore activities then head out in the water somewhere between Seppos and Back Beach for a bit of fun. Not sure what the plan is for Monday — probably a little excursion up to Coronation.
Haven't been shooting a lot of photos, GoPro or otherwise lately — that sort of photography is all a bit of an also-ran with so much of it around these days. I wonder what the next cool thing in photography is going to be/?
EXPERIMENTAL MUTANT PROJECT.
In case you haven't seen my seabreeze posts, I'm trying some new setups on my old Underground Firebird mutant these past few weeks.  After accidentally losing a back fin I panicked and couldn't work out how to replace it. Underground no longer made them and there were no after-market ones around to fit. SO, in desperation, I took and old surfboard fin I had in the car, cut the FCS tabs off, drilled out some holes and bolted it onto the bottom. Voilat! Much to my surprise, it worked better than the original. Love it! So much smoother, better transitions, less drag, etc.
So now, I've pulled the other original off and also replaced it with another type of surfboard fin. Here's a shot of the initial config I've been using the past few weeks.  Original fin on the left, replacement surfboard fin on the right. Just used some stainless self-taping screws, carefully drilled some pilot holes in three increasingly larger diameters the put some stainless washers on the top to spread the load, and it's solid as can be.
Will file another when there's some news on the next trial run. Mutants just leave other strapped boards for dead for just about anything. Yet, it's difficult to find one that incorporates the design elements necessary to make it all work.
Guess it's time for me to do a mutant article next!