Hello crew,
Apologies for sparse reports this season — not had a lot of opportunities to take many photos and my GoPro equipment is limited to my original Non-HD version, so the content's not really interesting any more compared to all the new whiz-bang stuff out there these days.
We've had sensational summer over here this year and unlike last year, with all the insane work hours, this year I've managed to get out for an afternoon after-work session at least a couple of times a week as well as a couple hours most days on the weekends.
The conditions and the consistency of the wind here in Geraldton is just incredible.
This is pretty much what it's been like most every day for several months. (see below)  Admittedly, this wind meter is located on the 2nd channel marker out beyond the Port, around 1km offshore, so it tends to read about 10 knots stronger than what's happening closer to the  beach but nevertheless,  it's plenty strong and it's a rare day that I'm not flying my 7m kite.  I've only flown my 9m a handful of times and not had the 11m up since about October I think.
One of the best things about the wind here is that the prevailing seabreezes are generally either dead south or SSE, which is straight cross-shore or just a tad cross-offshore late in the afternoon, making conditions for wave-riding just spectacular. Down-the-line riding is just perfect.  The only complaint I have is that because of the reef out back, most of the time the waves are as big as I'd like and they tend to be a bit rolly/mushy without clean, peeling faces. But they do break for a hundred metres or more at a few places like Coronation Beach and if you're brave enough when there's a big swell running Hells Gates near Point Moore will serve up some juicy waves — the only down side is that the break is out in the middle of the ocean about a km offshore and downwind of you is the Port and a  seal colony that tends to attract a lot of big grey fish that hang around there.
Seriously, look at what it's like here most every day. Here's today's actuals and the forecast for the next week. Because it's a bit inaccurate for what we see at the beach, I've just ordered a weather station that we're going to install up the hill here in the next few weeks.  We'll put a link to it on the page once it's up and running.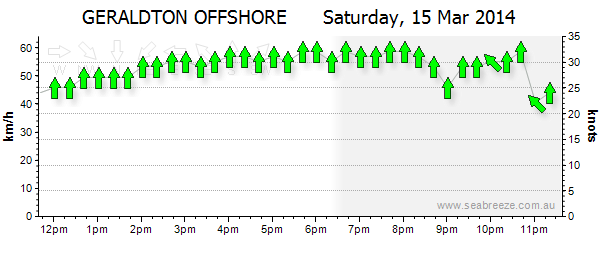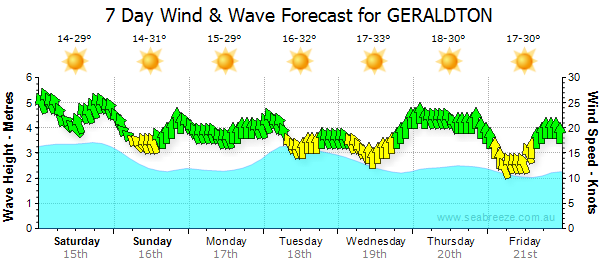 And the weather here is just amazing. It's almost too much sometimes — It' hasn't rained significantly (more than a few minutes) since late September, and probably won't until sometime in April or later.  The sunsets are amazing every day. And it rarely gets cool enough for a jacket most times in the evenings.
Will keep you posted on anything of interest and we'll put a email out to the list to announce the wind meter when it's up and running.
Take care and please feel free to drop us a note and say hello now and again. Always great to hear from folks who are visiting the page.
Cheers,
Rob