Hey all, it's another amazing day in Sydney with sunshine and at 8am a steady nor-wester blowing. This is kind of how yesterday looked when I made the last post.
We were down at kurnell yesterday and did a little trip over to Towra, it was really nice over there but it didn't last for too long after the wind started to gusty up to the point I got ripped off the water on a 9. Its been a long time since I've been totally spanked by a kite. I took this as a sign that it was probably time to switch to a smaller kite so we headed back knowing that the forecast was for a big westerly switch.
When back at the carpark I was about to whip the 7 out and took a look up at the sky, a BIG rolling fast moving bank of cloud heading in from the west. Hmm maybe its coming. Theae clouds when overhead looked like nothing I'd seen in a while, and as a rule if clouds look funky then something funky is going on up there. Big troughs of flat bottomed cloud banks that I really must look up.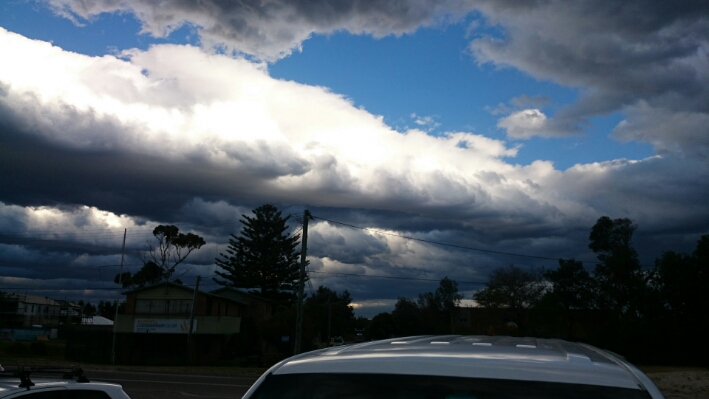 Taking my inner advice that things were probably about to all get 'messy' our little group decided that watching the impending carnage with a few beers could be better. I actually launched someone on a bws 8 and pointed him at the clouds and said you better watch that fella, he actually decided to take our advice and drop his kite again. I'm sure he's happy he did  So off we pop to the bottle shop for 5 mins, on our return we notice a change in things, the trees are sideways, cats are airborne and the water! Fark! 45 knot squalls do something to water, it makes it separate from itself and turn into walls of spray. After a few holy shit moments we spot a kite loose about 200 meters out blowing downwind towards the oil pipe pier, we make a quick call to the cops to say there is a kite free, we find the owner on the beach and let the cops know not to panic as others will prob call in. This didn't stop the boat, westpac chopper and 2 cop cars turning up tho!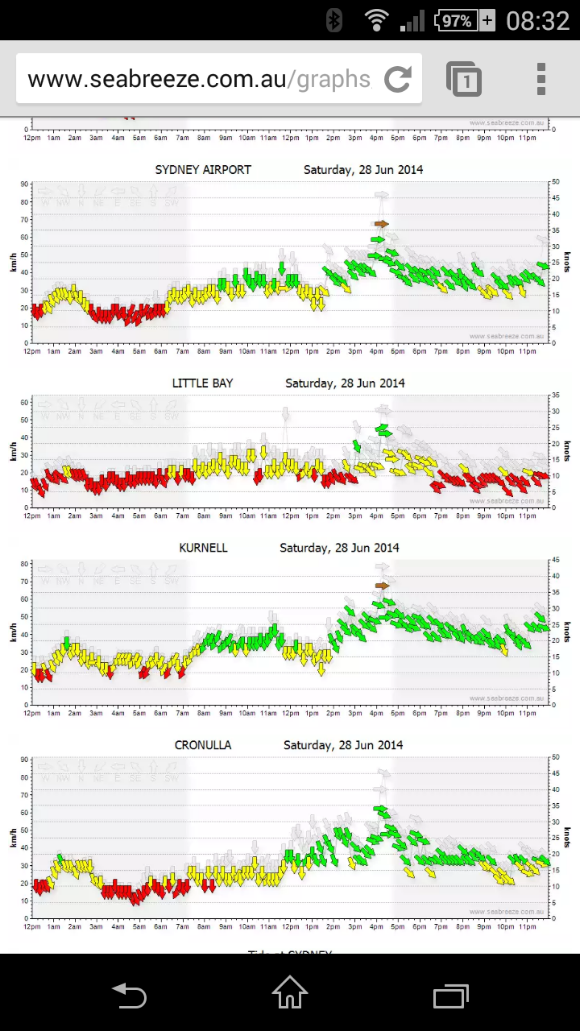 That's the graphs from yesterday. It was WILD! BUT it was forecast and it was visible that it was coming. This is why it pays to be prepared, know the skys, read and understand what's going on. You don't need to be a weatherman but question change. Why is that big bank of cloud coming? Why is it lined up different from the current wind direction? Why did it just get cold or warmer. I feel this is something missing from a lot of todays kiters who get out of an office chair and go kiting because its 'extreme' the main emphasis is on the kiting, not the wind. Sure http://www.seabreeze.com.au  helps and we have more tools at our disposal that ever before. Learn the weather and become a true sailor! It takes time, I'm fortunate enough to have the background but even I'm rusty. In the next few weeks I'll find some good basic weather stuff and throw it up and talk about the common local Sydney things that catch out people.
Anyway, when things settled it turned into an incredible sunset. Here are some pics and one of me taking a piss. Thanks Jess Digs. I think?