It was a pretty laid back start to the trip if I have to be honest. The rain that has been belting down the coast wasn't really motivating for a week long road trip. But I've got the week off work and I'm sure there is some wind, sun and surf SOMEWHERE!
A few hours south of Sydney and I decided to pull into Kiama to check out the wind. It's almost always windy at the first beach you past coming into Kiama with the train tracks right up next to it. It's still raining at this point and looking at the charts and map it doesn't look too flash for the southerly thats coming in. Also giving it the once over inspection, I'll be honest it isn't the safest place for a solo kite in limited visibility. A quick check of the map shows the next really viable beach to kite is Werri beach, hey I've surfed there before.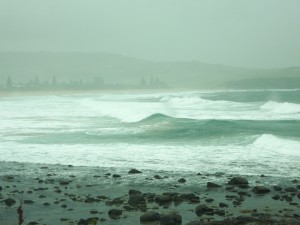 This is the site that welcomed me to Werri beach! It's not the nicest view to welcome you to a days kiting. Anyway, it seems windy lets hit it!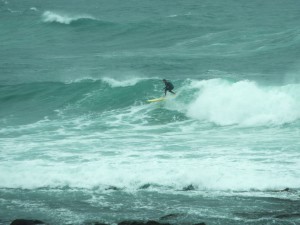 The south end of the beach simply doesn't work in a southerly, its proper protected. with a bit of east it could actually work and there is a nice wave at the point that would work will on a good day. This chap was getting stuck into it.
I went out from about the middle of the beach. It's really gusty and the surf is pretty wild. I wasn't game enough to stick the go-pro on to be honest. Self launching with the go-pro on the front lines will go one of two ways, one of those sucks. There is a huge rip in the middle of the beach here and the current up the shore is pushing me upwind like crazy, this is really odd and I couldn't tell how windy it really was. If I got out the back I was a bit underpowered on the 9 but close in I was powered up. There are some big sucky slabs hitting a sandbar half way out so I decided just to stick in the powered up section and play about a bit. It was quite fun but the current is really strong, at one point I'm going down the line on a wave with loads of power, I look at the shore and I'm not even moving! Really weird..
The rain eventually killed play after about an hour with the wind getting all fluffy and weird. Wish visibility down to about 100m I call it and head in.
One good safety tip I can give for days like these when it really is suspect is flick a message to someone that knows what your doing, tell them where you are and when you think you'll be back. Thinking back to a few accidents anything can happen and no-one here is likely to notice.
Anyway, Onwards down to Mollymook for the night. The storms are still going so no real action in the arvo. It's nice to get a snooze in.
Tuesday morning brings SUN and WAVES. Woohoo! for 1 hour this morning I had a 2-3ft glassy break all to myself! Now thats how it should be!
Here are some pics from today.