After a great mornings surf at the Golf course reef I've hit the road again and worked my way down through Batemans Bay and gone looking for some wind down at Moroya Heads. I've heard about this great surf break on the sea wall and wanted to check it out. In the end I've ended up at the a nice beach just south of the harbour entrance and there is about 12 knots. The sun is out and I've got nothing better to do so I've pumped up the 12m and gone for a play.
Super light conditions and its hard to stay upwind but its nice and sunny and quiet so I'm super happy. Found a good empty camp site for the night and was happy to pay the $20 for a quiet night and a hot shower.
Slow morning chilling and doing some reading and it's back on the road again. Before I left I ran into these little fellas just chilling and wanting to say hi. It's pretty hard going you know.
Heading south I'm taking the coast road and pulling off the freeway to check out some few spots. The road that goes via Bermagui along the coast is magic. Probably one of the best motorcycle roads I've found in the country if you are into that kind of thing. There is national park all along it so camping isn't a problem and it crosses some really good flat water spots like (for the life of me I can't find it again on the map. I'll fill this in later but it looked great!!)
The original plan was to stop another day half way to Merimbula but then my phone starts bleeping with sms's that the event starts on Thursday. Hmmmm, quick change of plans and I head all the way to Merimbula. There is a real lack of surf and wind so it wasn't a real problem. I stopped at so many places and all I say was golden sand, clear blue sea and no waves..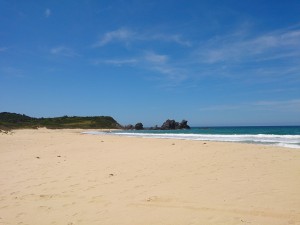 Anyway. Not the best update in the world, I'm a day behind now. This really is a magic stretch of coast that I've never had the time to explore. I'll be back I think to do more exploring!